US Drug Scandal- 27 Facing Doping-Related Charges
"Maximum Security received performance-enhancing substance"
Jason Servis, who recently saddled Maximum Security to victory in the world's richest race, and Jorge Navarro, whose horses have earned more than $37 million since 2008, were among 27 trainers, veterinarians, and others indicted March 9 in federal court on doping-related charges in racing.
In an indictment released Monday in the United States District Court, Southern District of New York, Navarro and Servis were among the trainers listed in a 44-page indictment that also listed 17 other individuals. Eight more individuals were listed in three other indictments on similar charges.
In the indictment of the 19 individuals that included Navarro and Servis, it said the charges result from a "widespread, corrupt scheme by racehorse trainers, veterinarians, PED (performance-enhancing drug) distributors, and others to manufacture, distribute, and receive adulterated and misbranded PEDs and to secretly administer those PEDs to racehorses under the scheme's participants' control."
Listed in that indictment were Servis, Navarro, trainer Nicholas Surick, veterinarians Erica Garcia, Seth Fishman, Gregory Skelton, and Kristian Rhein, as well as other individuals including Marcos Zulueta, Michael Tannuzzo, Ross Cohen, Lisa Giannelli, Jordan Fishman, Rick Dane Jr., Christopher Oakes, Michael Kegley Jr., Alexander Chan, Henry Argueta, Rebecca Linke, and Christopher Marino.
Servis is accused of covertly obtaining and administering adulterated and misbranded PEDs (performance-enhancing drugs), including a PED called SGF-1000, to virtually all of the racehorses under his control. The indictment states that from 2018-Feb. 2020 Servis entered horses in approximately 1,082 races and his co-conspirators concealed the administration of PEDs from federal and state government agencies, racing officials, and the betting public.
The indictment states PEDs were covertly transported between barns where Servis' horses were stabled by falsifying vet bills to conceal administration of SGF-1000 and using fake prescriptions. It says his co-conspirators include Rhein, a vet who is accused of obtaining and administering adulterated PEDs, Kegley Jr., a sale representative for a firm dedicated to the production of misbranded and adulterated PEDs, including SGF-1000; and vet Chan, who is accused of, under the direction of Servis, administering misbranded and adulterated PEDs, including SGF-1000 and prescription veterinary drugs without a valid medical reason.
Argueta is identified as an assistant trainer with Servis, and he's accused of similar charges.
Navarro is accused of "orchestrating a widespread scheme of covertly obtaining and administering various adulterated and misbranded PEDs to horses under his control," the indictment alleges.
The indictment accuses vets Garcia, Fishman, and Skelton of misbranding and adulterating PEDs by illegally manufacturing PEDs (Fishman and Skelton) and illegally administering PEDs at Navarro's discretion (Garcia). Oakes, Zulueta, Tannuzzo, and Surick, are accused of assisting Navarro in obtaining, shipping, and administering misbranded and adulterated PEDs. The indictment says Cohen and Oakes acted as distributors of misbranded and adulterated PEDs.
BloodHorse could not immediately reach Navarro, Servis, or their legal representatives Monday morning.
A track official and trainer in South Florida said the FBI conducted raids on barns at Gulfstream Park West and Palm Meadows Monday. The Stronach Group later issued a statement confirming those raids.
The indictment says that SGF-1000 is a customized PED purportedly containing "growth factors," including fibroblast growth factor and hepatocyte growth factor, which are intended to promote tissue repair and increase a horse's stamina and endurance beyond its natural capability. Maximum Security, last year's champion 3-year-old male who won this year's $20 million Saudi Cup, allegedly was administered SGF-1000.
According to the indictment, on June 5, 2019 New Jersey racing regulators tested Maximum Security for PEDs a short time after the son of New Year's Day received a shot of SGF-1000. The testing occurred in advance of the TVG.com Pegasus Stakes, where Maximum Security finished second in his first start after finishing first in the Kentucky Derby Presented by Woodford Reserve (G1) only to be disqualified to 17th for interference.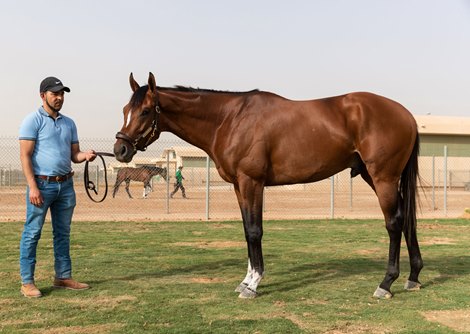 "On an intercepted (June 5) call between Jason Servis and (vet) Kristian Rhein, the defendants, after the drug test, Rhein counseled Servis and reassured him that Maximum Security would not test positive. "They don't even have a test for it," Rhein said of SGF-1000. There's not a test for it in America." Rhein further stated that, if anything, the SGF-1000 may appear on a drug test as a false positive for a different substance "Dex."  (While the indictment didn't offer further detail, people commonly refer to Dexamethasone as "Dex.")
The indictment later says that same day Servis discussed Maximum Security's drug test with another veterinarian who agreed to falsify records to make it appear as if the racehorse had received "Dex."
At 11 a.m. Monday the U.S. Attorney for the Southern District of New York held a press conference to provide more detail on the indictments and outlined the different types of PED identified during the investigation.
These include blood-builders like erythropoietin (Epogen or EPO) and its analogues. The indictment noted that use of these substances can increase cardiac exertion and pressure and lead to cardiac issues including death.
Other drugs of concern in the indictment include customized pain killers, and "red acid," a term for a designer PED used to reduce joint inflammation. The indictment notes that in many cases the PEDs were not manufactured in facilities registered with the FDA.
Navarro is accused of using blood-builders referred to as "BB3," a similar PED they called "ITP Plus" or "ITPP," an adulterated PED referred to as "VO2 Max" and a customized, pain-killing PED they called a "Frozen Pain" shot. The indictment specifically names X Y Jet, who earned more than $3 million and won the 2019 Dubai Golden Shaheen Sponsored by Gulf News (G1), as one of the Navarro-trained horses to receive a blood-building" substance known by the code name "Monkey."
The indictment also notes that these various substances were manufactured in a manner that prevented them from showing up in drug tests.
During the timeframe of the accusations against Servis (2018 through February 2020), doesn't have a single failed post-race drug test—a fact that could be in his favor or could suggest shortcomings in the current system that is highly reliant on such post-race tests. In the timeframe of the federal charges against Navarro (January 2017 through January 2020), he has just one failed drug test, according to records available on OwnerView.
"In many cases the customized PEDs were designed to be untestable on drug tests in order to defraud and mislead federal and state regulators, racing officials, and the betting public," reads the indictment that includes Servis and Navarro.
Oakes is accused of manufacturing his own customized, misbranded, and adulterated PED designed to "rapidly increase a racehorse's performance during a race and to be undetectable in drug tests." It was referred to as "drench." It says that on or about March 14, 2019 law enforcement officers found multiple adulterated and misbranded PEDs in Oakes' barn in Pennsylvania.
"In addition to developing his doping program around PEDs that are, by design, difficult or impossible for state regulators and racing officials to detect, Jorge Navarro, the defendant, and others known and unknown, have tried to conceal the existence of the Navarro Doping Program," the indictment alleges, by efforts including the use of straw purchasers and false names to receive PEDs, attempts to avoid interception of phone conversations regarding their administration, and the surreptitious disposal of the bodies of horses that have died on the property of Navarro and his co-conspirators.
The FBI cited an intercepted phone call between Surick and Tannuzzo in which Surick allegedly said, "You know how many (expletive deleted) horses he (Navarro) (expletive deleted) killed and broke down that I made disappear? … You know how much trouble he could get in … if they found out … the six horses we killed?"
Seth and Jordan Fishman, Dane Jr., and Giannelli are accused of adulterating and misbranding drugs.
Eight other people were indicted in three other similar indictments made public Monday. Listed in one indictment were Sarah Izhaki and her daughter Ashley Lebowitz, who are accused of a scheme to distribute adulterated PEDs to racehorses in Australia, the Middle East, New Jersey, and New York. The indictment identifies Izhaki and Lebowitz as suppliers who were largely focused on distributing an adulterated and misbranded version of erythropoietin (EPO).
Another indictment charged Louis Grasso, Donato Poliseno, Conor Flynn, and Thomas Guido III in a scheme to distribute adulterated and misbranded PEDs. It said those indicted "manufactured, purchased, sold, shipped, delivered, received, and administered at least thousands of units of PEDs issued by pharmacies pursuant to invalid prescriptions provided by vets participating in the scheme."
And one more indictment charges Scott Robinson and Scott Mangini, from at least 2011-20 with "multiple iterations of a scheme to create, manufacture, sell, and ship adulterated and misbranded PEDs intended to be secretly administered to racehorses for the purposes of improving those horses' race performance."
In reaction to the indictments, New York Racing Association spokesperson Pat McKenna said: "There is absolutely no place in our sport for those who would administer illegal or banned substances to racehorses under their care. The New York Racing Association is committed to preserving and protecting the integrity of the sport and the safety of the equine and human athletes who compete at our tracks. We will continue to work closely with the New York State Gaming Commission and our industry partners across the country to advance meaningful reforms that protect the future of Thoroughbred horse racing."
Eric Mitchell and Bob Ehalt contributed to this story.