Tribute – Not A Single Doubt -Top 5 progeny
MIRACLES OF LIFE 17:8•3•1 PRIZE•MONEY: $1,577,770 For a sire of sires and a slow-burning sire himself, it is perhaps surprising that Not A Single Doubt's rst Group 1 winner came courtesy of a two-year-old lly. e ashy chestnut, who possessed a dening white blaze covering the majority of her face, went unbeaten from her rst four starts in a campaign which saw the lly win a fairytale Blue Diamond Stakes in 2013 for trainer Daniel Clarken and amateur jockey Lauren Stojakovic. e lly, known as 'Barbie', added a second Group 1 success under the tutelage of Peter and Paul Snowden, taking out the 2015 Robert Sangster Stakes (Gr 1, 1200m), her nal racetrack appearance. Sold for $900,000 at the 2014 Magic Millions National Broodmare Sale, Miracles Of Life produced one winner from three foals before she died in 2019.
EXTREME CHOICE 8:4•0•1 PRIZE•MONEY: $1,736,250 Extreme Choice is the latest sire sensation in Australia, boasting an incredible stakeswinners-to-runners ratio of 17.5 per cent. However, like his sire, the compact colt suers from fertility issues, having only produced 154 live foals in his rst four years at stud. e Mick Price-trained Extreme Choice won his rst three races on the track, the Inglis Nursery (1000m) added to by the Chairman's Stakes (Gr 3, 1000m) and Group 1 Blue Diamond Stakes in 2016, enough to convince Newgate Farm and China Horse Club to purchase a controlling share. He would return as a spring three-yearold to win the AJ Moir Stakes (Gr 1, 1000m). Having sired the Golden Slipper winner Stay Inside and Champagne Stakes (Gr 1, 1600m) winner She's Extreme, he stands for a fee of $275,000 – the highest in Australia.
SINGLE GAZE 35:5•9•3 PRIZE•MONEY: $2,361,600 Another magical story to be entrenched into Australian racing narrative is that of the Nick Olive-trained Single Gaze. e diminutive lly delivered both Canberra-based Olive and jockey Kathy O'Hara with a rst Group 1 win when she claimed the Vinery Stud Stakes (Gr 1, 2000m) in 2016. A $70,000 Magic Millions buy, Single Gaze earned over $2.3 million for Olive and was sold to Japanese breeder Katsumi Yoshida for $1.6 million in April 2018.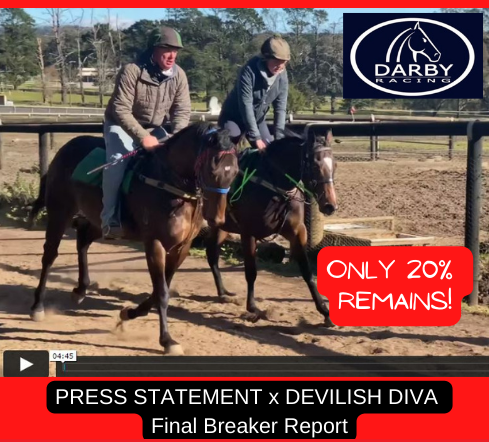 Purchase – INGLIS HTBA YEARLING SALE – LOT 642% SHARE $795.002.5% SHARE $993.75 5% SHARE $1,987.50 10% SHARE $3,975.00
SOUTHERN LEGEND 56:13•8•10 PRIZE•MONEY: $10,718,031 Although not renowned as a prolic sire for Hong Kong and the Asian racing jurisdictions, Not A Single Doubt has a useful record when it comes to providing winners for the important export market. Not A Single Doubt has 31 winners from 52 runners in Hong Kong, and 21 winners from 34 runners in Singapore. But in Southern Legend he has a son that has claimed some of the biggest prizes on oer in both Hong Kong and Singapore. e Boniface Ho-owned gelding was a Listed winner in Australia, but in an illustrious career in Asia he twice won the Kranji Mile (Listed, 1600m) in Singapore, while also adding the 2020 Champions Mile (Gr 1, 1600m) at Sha Tin. Not A Single Doubt earned a second elite-level winner earlier this season when Stronger won the Centenary Sprint Cup (Gr 1, 1200m) at Sha Tin.
Join Nick Olive Racing
FARNAN 8:5•0•0 PRIZE•MONEY: $2,507,450 Not A Single Doubt's crowning achievement as a sire came in the year of his retirement, when champion two-year-old colt Farnan won the Golden Slipper Stakes. e dominant juvenile of his generation, Farnan won the Silver Slipper (Gr 2, 1100m) and Todman Stakes (Gr 2, 1200m) on his way to Group 1 success. A $550,000 yearling, the Gai Waterhouse and Adrian Bott-trained colt defeated Away Game by a length and three-quarters. He now stands at Kia Ora Stud in Scone for a fee of $55,000 and covered a book of 192 mares last year.