Cox Plate champ wins Ascot G1
At the end of a race featuring arguably the most international cast ever assembled for Royal Ascot's middle-distance jewel, State Of Rest – a horse who is a throwback to earlier top-class globetrotters such as Singspiel and Ouija Board – delivered in emphatic style for Joseph O'Brien and was given a ride that belied Shane Crosse's 20 years.
Join Gemma Riley Racing
Despite having rattled off a barely attempted dual-hemisphere hat-trick of Group 1s in the US, Australia and France, State Of Rest was relatively easy to back until shortly before the off, as money poured in for the home hopes Bay Bridge and Lord North, chiefly at the expense of Japanese challenger Shahryar.
It's doubtful Crosse's four rival riders underestimated the achievements of a Cox Plate and Prix Ganay winner but, in a race with no obvious pace angle, nor would any have expected the O'Brien team to change a hitherto winning formula on a horse who had done the majority of his winning when ridden for a turn of foot.
Join Nick Olive Racing
"We take it race by race but we really wanted the lead today and we thought that if he got the lead we had a great chance to win," said O'Brien, who was welcoming back a first winner at the meeting since swapping his saddle for binoculars. "He's a very tough horse and he's a very hard horse to go past. We knew he'd be fighting hard at the line. Shane executed it perfectly."
WATCH: Joseph O'Brien on State Of Rest
While Cristian Demuro remained in close attendance aboard Shahryar, State Of Rest was essentially allowed to do his own thing in front, while every furlong that ticked by in more than 13 seconds must have filled O'Brien with confidence.
While Bay Bridge came out of the pack to give chase, Crosse always had plenty of horse as he went about kicking off the front.
O'Brien said: "He went three-wide all the way in France and won so we knew that it wouldn't be an issue for him, as long as he didn't get taken on too early. That's the only worry about getting the lead.
Join Mark Newnman and Darby Racing Racing
"He got a really good start and after a furlong we were comfortable with how the race was setting up," said O'Brien. "I thought Shane set the fractions perfectly and the horse is very genuine and very tough, which he always is.
"I'm very proud of both of them. I was quite relaxed watching the race because it was going how I hoped it would. It's not very often that happens in racing.
"I think it was probably a career best but he had been training very well. It's a big day today and a lot of work goes into getting these winners, and it's my first Royal Ascot winners so it's special to get that."
WATCH: Newgate celebrate State Of Rest
We should have all got past the stage of asking O'Brien to compare the pressures of riding and training top-class thoroughbreds but it was still a landmark first success at this meeting for the Owning Hill team.
Comparing the sensation to riding So You Think in this race ten years ago, he added: "I certainly felt more pressure today, maybe it's because I'm getting older."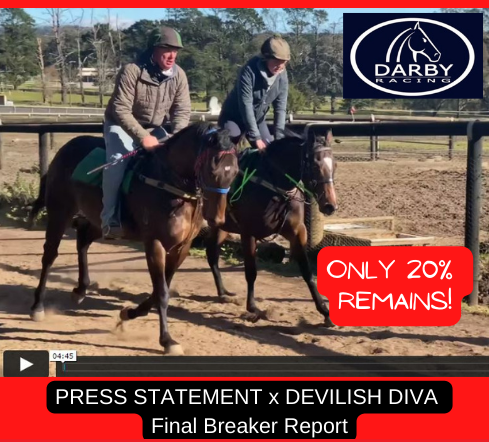 Purchase – INGLIS HTBA YEARLING SALE – LOT 642% SHARE $795.002.5% SHARE $993.75 5% SHARE $1,987.50 10% SHARE $3,975.00
And what of Crosse, who rode four world-class jockeys to sleep and, just as he had been after the Prix Ganay, was the calmest man on the racecourse in the aftermath?
"He's the most laid-back, straightforward horse you could find," the jockey said of State Of Rest. "There's no quirks to him. He's a top-class horse with no issues. That's the best thing, being a jockey on a horse like that. There's no excuses."
Every one of those words could equally apply to Crosse, who now has four Group 1 victories to his name.
Quotes were bandied about for the Eclipse and the Arc, but while O'Brien was reluctant to commit, a key part of the ownership team was more definitive.
"I think he has now done his job in Europe and it would be great if we could win the Cox Plate again," said Henry Field, the founder of Newgate Stud who, along with Rathbarry in Ireland, will be responsible for his second career.
Those at Ascot on Wednesday will count themselves lucky to have caught him.